Restaurant Software with GST Billing & Filing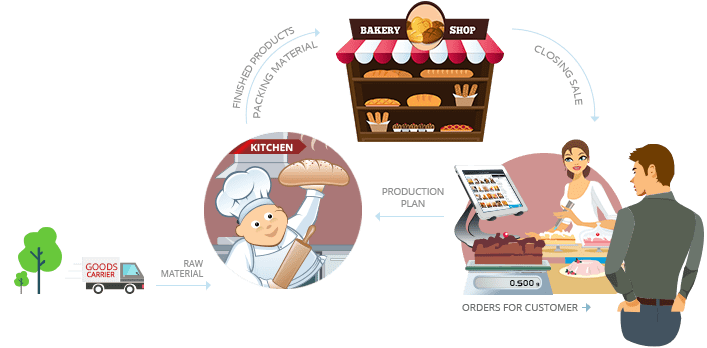 Restaurant Software
Restaurant Software by Marg - Helps Grow Profit By complete control over Inventory, Billing, Ordering, home delivery, Kitchen Order Tacking, Loyalty and CRM Programs with 1000's of reports & MIS.
For a Restaurant industry, the biggest challenge is to manage the order entry, recipe costing, tracking & documentation of perishable inventory. Software for restaurant billing allows you to easily make an adjustment of different menus & prices with respect to different time. This software solved the problem of the restaurant industry by developing its Restaurant Software which ensures easy maintenance of different menus with different price list at the different time of the day. The software has made billing easier by providing different modes of payments (cash & credit cards). With Restaurant Software you can set operator wise foundations which can help in proper maintenance of finance & budget as well as resist any type of fraud.
Why do businesses choose Erp to manage Restaurant business?
GST Compliant

Easy Implementation

Customizable

Collaborative

Business Booster

Customer - Driven Features
Features
Billing Features

Purchase Features

Discount & Schemes

MIS Reports

Document Printing

Fully User-Configurable Invoicing
We Provide Restaurant Billing Software
Restaurant Billing Simple to Use Easy to Implement Flexible to Customized Solution

Easy & Fast Billing
Restaurant Billing ease the billing with POS (Touch Screen) feature i.e. virtual keyboard, item selection and management.

Auto-Bank Reconciliation
Avail online banking option with ICICI Bank and Auto-Bank reconciliation facility with 140+ Banks .

Expiry management
Software for restaurant billing keeps a track of expiry date and timely return to supplier before the product expires.

Inventory
Software For restaurant billing can Manage your inventory levels ,waiter wise reports, date wise reports, colour wise table status, set reorder points to replenish stock and save your loses due to expiry.

Touch Screen
Helpful feature which improves ease of use and enables businesses to pop up groups and their items with their photos in a desired sequence.

Conversion
Restaurant software helps you create one to many and many to one product. (From single product many products can be made)& (From multiple product one product can be made)

Cashier and Home Delivery
Cashier management and home delivery feature gives you 100% control on your business

Table creation & transfer
The restaurant management software can make as many tables as possible by table creation option in the software. For table transfer the Transfer KOT option in the software allows you to make the changes if the customer decided to change his sitting location

KOT (Kitchen Order Tickets)
Restaurant billing software gives you provision for Kitchen Order Tickets ( KOT) which is simple to use and flexible according to needs. In restaurant software, KOT contains details and modification provisions of table number, item ordered and its quantity and order status with color differentiation.