Supermarket Software: Get High Profitability & Control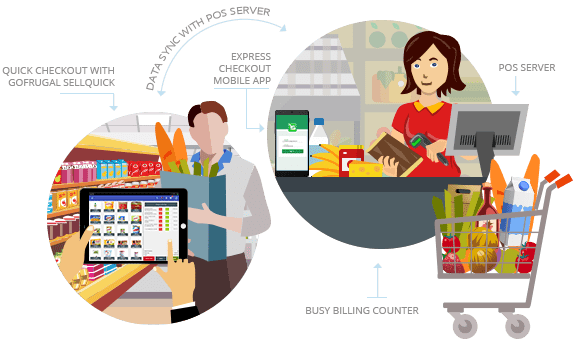 Supermarket Software
Supermarket Software is Easy & fast billing, easy monitoring, and control over stocks reduce pilferage, get best deals from suppliers with smart purchase features, discount & scheme management, user configurable invoicing along with 1000's of reports to keep you in full control of your business.
Supermarket!!!! It is a large form of a grocery store which offers a wide variety of foods and household products that are well organized into aisles. In supermarket business, accurate inventory information is essential as many of the items are perishable with limited shelf lives. If the stocks of fast selling items are less then it will lead to loss of sales and even if the stocks of low selling items are more then it will also lead in loss of sales. So it means properly organized inventory/stocks should be maintained so that items should not be over-ordered or overstocked as it does not scramble the path of grabbing better opportunities. Supermarket Software contains such features which distinguish the software from other software's.
Why do businesses choose Erp to manage Supermarket business?
GST Compliant

Easy Implementation

Customizable

Collaborative

Business Booster

Customer - Driven Features
Features
Billing Features

Purchase Features

Discount & Schemes

MIS Reports

Document Printing

Fully User-Configurable Invoicing
We Provide Supermarket Software
Supermarket SOFTWARE Simple to Use Easy to Implement Flexible to Customized Solution

Easy & Fast Billing
Generate batch wise invoices ,with detailed information about different Businesses

Inventory
Manage inventory levels, set reorder points to replenish stock and save your loses due to expiry.

GST Filing
Push transactions into the GSTN portal from excel, JSON or CSV file and file your GST returns directly.

Auto-Bank Reconciliation
Avail online banking option with ICICI Bank and Auto-Bank reconciliation facility with 140+ Banks only in Marg ERP

Import Purchase
Allow to import purchase from any excel or csv format to save your time with 100% accuracy

Reporting
Stay on top of your finances with powerful 1000's of sales, purchase, inventory & accounting reports

Re-Order Management
Help you reallocate your items to other things, save money and time and automate the entire reorder process

Cashier and Home Delivery
Cashier management and home delivery feature gives you 100% control on your business

Expiry management
Keeps a track of expiry date and timely return to supplier before the product expires.